Boat Rentals and Marina on Lake Almanor
Marina Direct Line: (530) 596-4545
The floating convenience store offers 24-hour self-serve 91 octane fuel as well as beer and snacks.
View policies, terms and conditions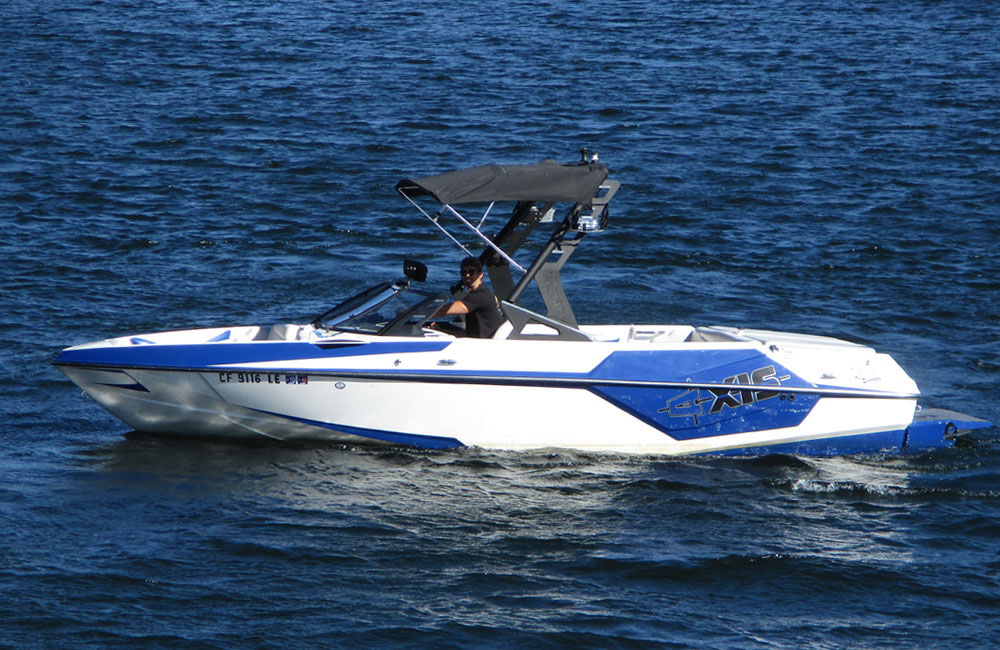 Axis Wake Sport*
Axis Wake Sport boat with 430hp Monsoon V8 engine for pulling ALL the toys! Complete with ballast tanks, Auto-Set Wedge, Surf Gate and Axis AW15 Tower Light Bar with wakeboard holders, these boats will satisfy the most avid water sports enthusiast. And since no one deserves to be left on shore, bring all your friends! The T22 has a capacity of 15 persons. These 22' inboards are the most sophisticated rental boat on Lake Almanor and they are brand, spankin' new! We include a tow rope, wakeboard, life vests, and ski flag with your rental.
| | | |
| --- | --- | --- |
| 4 hrs. | 8 hrs. | Weekly |
| $750 | $1,125 | $5,625 |
Book Now
Book Now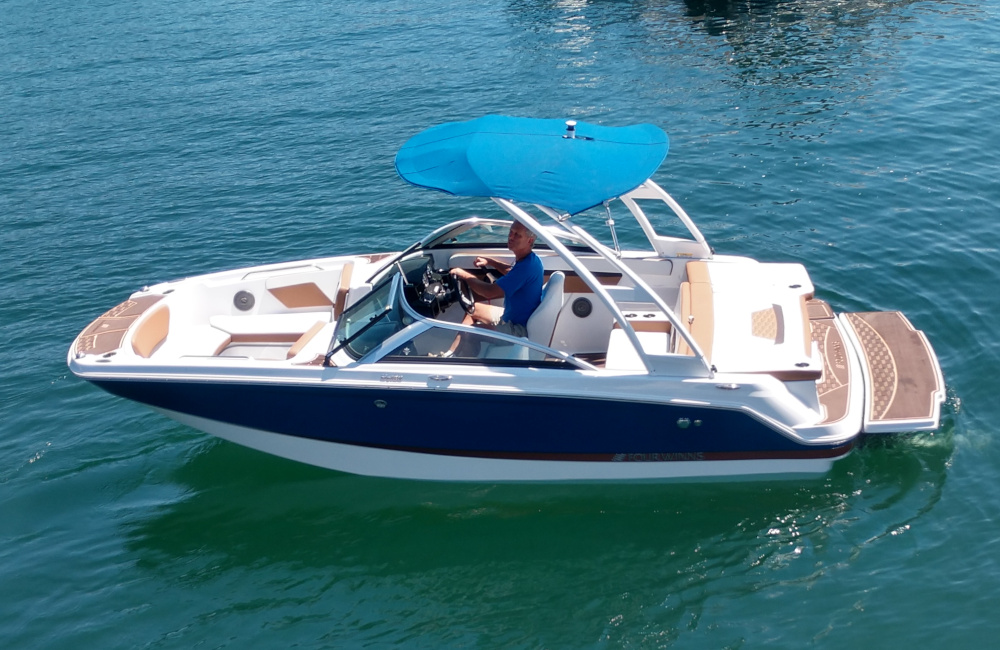 Premium Ski Boats w/ Tower
We are pleased to offer the Four Winns HD180 model with wake towers. These extra wide boats have all the features of our regular fleet with the high tow point for you wakeboarders! Three of these boats are available. Premium ski boats w/ tower seat 9.
| | | |
| --- | --- | --- |
| 4 hrs. | 8 hrs. | Weekly |
| $625 | $950 | $4,750 |
Book Now
Book Now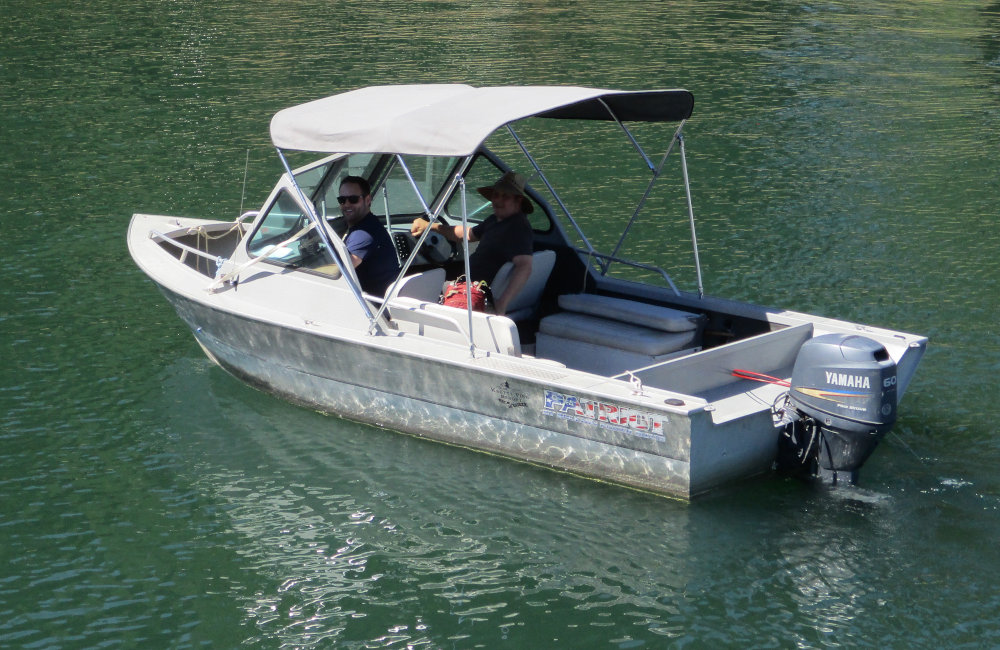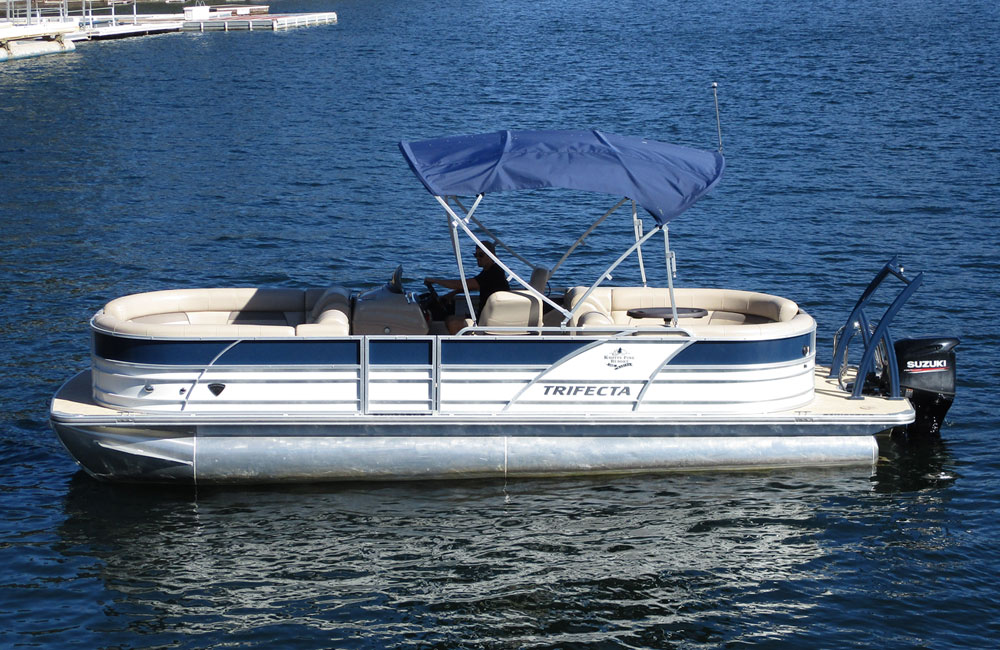 25' Pontoon Boats
We are pleased to offer the absolute best and most luxurious rental pontoon on the lake. Our Trifecta Pontoons with the super-quiet four-stroke Suzuki Outboards are the ultimate for those big groups. These spacious 25' boats are 8 1/2 feet wide and have the most powerful engines of any rental pontoon boat on Lake Almanor! 140 hp, fuel efficient engines will pull water toys with ease. These boats feature an upholstered rear sun lounge, two forward chaises, "L" shaped lounge with table under the convertible sun top, a Sony AM/FM CD Stereo, depth finder to locate the perfect fishing spot, anchor to tie-off and swim ladder for easy re-boarding. Pontoon boats seat 14 people.
| | | |
| --- | --- | --- |
| 4 hrs. | 8 hrs. | Weekly |
| $500 | $725 | $3,625 |
Book Now
Book Now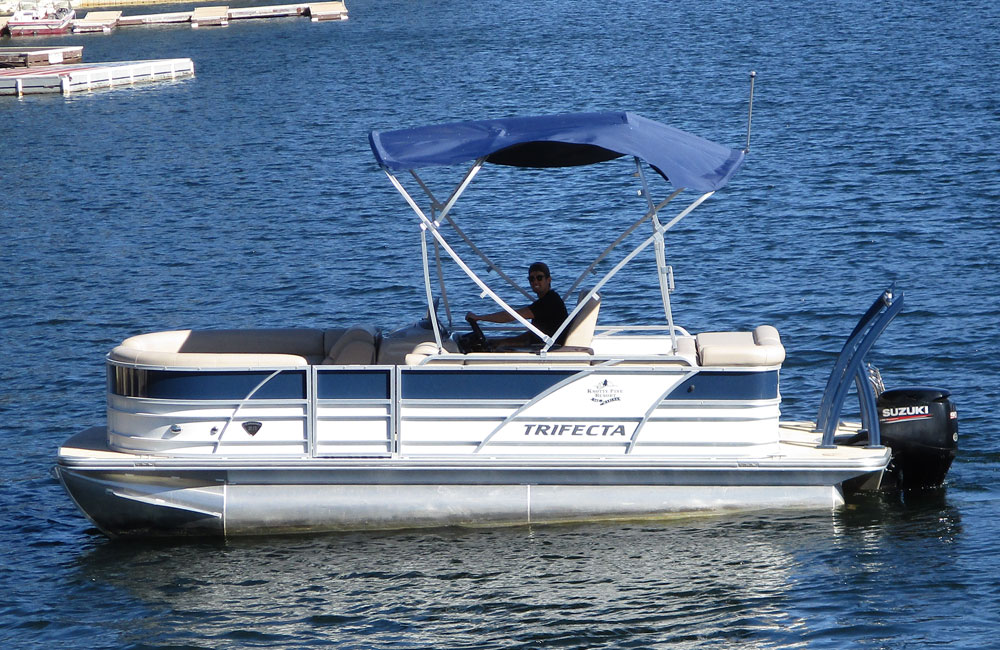 20' Pontoon Boats
Our 20' pontoon boats have all the luxury and fun of their 25' big brothers for smaller groups, and at a LOWER PRICE! The 90 hp Suzuki purrs for trolling and cruising, but packs the power for towing water toys. The bimini sun shade protects sensitive skin. A pop-up changing room is conveniently located next to the swim ladder and boarding area at the back of the boat. An AM/FM/CD player is provided for your listening pleasure. A depth finder will help you navigate safely around the shores of the lake. A small table for serving food, an ice chest for your cold items, and ample storage for your gear round out a nicely appointed boat. 20' Pontoon boats seat 10 people.
| | | |
| --- | --- | --- |
| 4 hrs. | 8 hrs. | Weekly |
| $400 | $550 | $2,750 |
Book Now
Book Now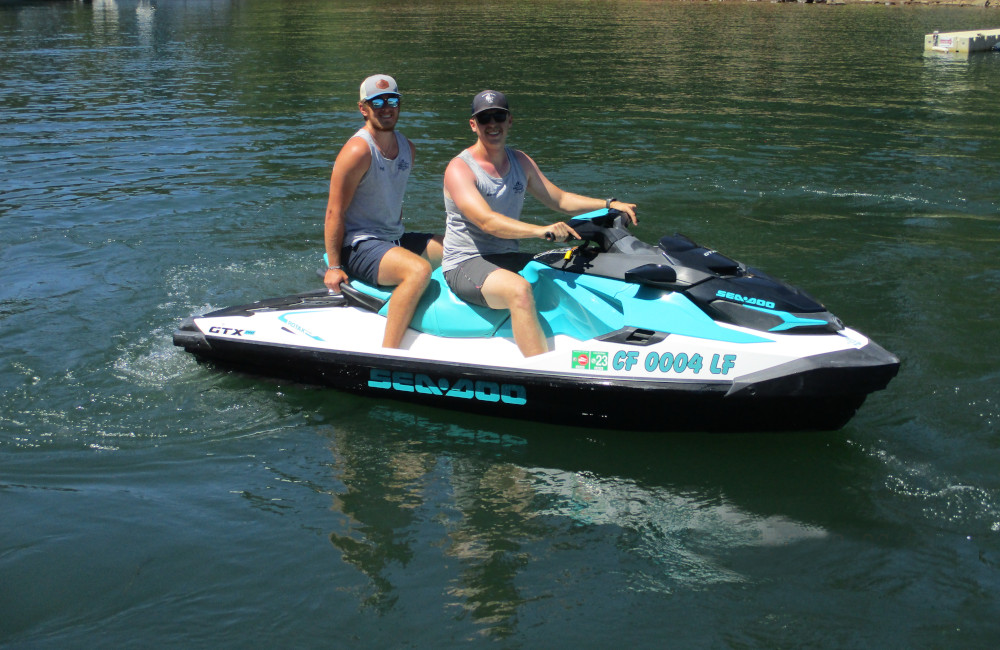 Personal Watercraft
Our fleet of GTI 130 watercraft feature 1,494 cc Rotax 4-TEC engines producing 130 hp! These are the newest and fastest rental watercraft on the lake! 3 riders and advanced technology give you the most miles of fun for your money. Be sure to book these units early - you are sure to be back for a second ride!
| | | | |
| --- | --- | --- | --- |
| 1 hr. | 4 hrs. | 8 hrs. | Weekly |
| $120 | $400 | $850 | $4,250 |
Book Now
Book Now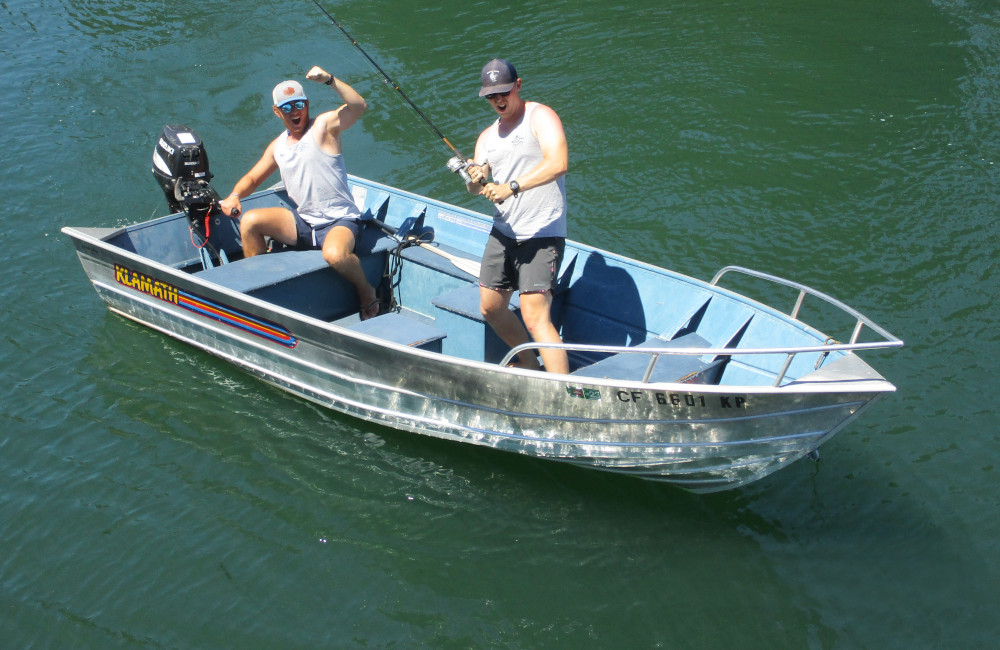 Fishing Boats
15' Klamath Deluxe fishing boats with 15 hp electric start Suzuki four-stroke outboards may not improve your luck fishing, but you will be a whole lot more comfortable making an effort in these boats with carpeted bench seats and floorboards. Fishing boats seat 4 people.
| | | |
| --- | --- | --- |
| 4 hrs. | 8 hrs. | Weekly |
| $120 | $240 | $1,200 |
Book Now
Book Now
---
Additional Rentals
1 HR.
4 HRS.
8 HRS.
WEEKLY
KAYAK / 2 MAN PADDLE BOAT
$20
$60
$130
$600
2 MAN KAYAK / CANOE / 4 MAN PADDLE BOAT / PADDLE BOARD
$30
$90
$180
$900
WATER SKIS
SMALL TUBE
KNEEBOARD
$15
$45
$90
$450
WAKEBOARD
$20
$60
$120
$600
LARGE TUBE
$20
$60
$120
$600
SKI VEST/SKI ROPE
-
$15
$30
$150
WET SUITS
-
-
$30
$150
Launching Fee: $40.00 In & Out
---
Boat Reservation Policy
All rentals include personal flotation devices (PFD) to accommodate every passenger up to the rated capacity of the Boat, a fire extinguisher and free map of the lake. We will send you out with a full tank of fuel. You are responsible for topping-off the tank at the conclusion of your rental. Naturally, you are responsible for any damage sustained to the Boat for ANY REASON during the rental period and for the loss of any accessory equipment. Dogs are welcome on our boats, however, a charge of $50.00 per dog is due at inception of rental. Excessively dirty Boats shall be charged a $100.00 cleaning fee. We do not allow beaching of any Boats. No barbecuing is permitted on any Boat. Our floating Marina Store opens at 8:00 am and closes at 6:00 pm. In an effort to get you out on time, we ask that you show up 15 minutes before the start of your rental to complete the paperwork and receive safety and operating instructions for your Boat. If you want to go out early in the morning, please check-in with us the evening prior, and we will give you the safety and operating instructions for your boat so you can leave at the crack of dawn! All rentals are due back at 6:00 pm unless prior arrangements are made.
*These premium boats require a separate Damage Deposit that will be collected at the time of your rental. It is fully refundable upon the unblemished return of the boat.
Full rental charges due at time of reservation. For your convenience, we accept VISA and MasterCard. If you find it necessary to cancel your reservation for any reason, we will refund your prepaid rental subject to the following cancellation fees:
Sixty days or greater will result in a 15% cancellation fee of the total rental amount.
Fifty-nine days or less will result in a 25% cancellation fee of the total rental amount.
Seven days or less will result in a 50% cancellation fee of the total rental amount.
Twenty-four hours or less will result in no refund.
We do not process refunds for unfavorable weather conditions, poor air quality and/or limited visibility.
Wildland Fires: 93% of the land area of Plumas County is forest. Unfortunately, climatic change, drought and inattentive forest management practices have shown to create opportunity for Wildland Fires to initiate during the summer season. These events, whether directly in or adjacent to Plumas County, can create unpleasant air quality conditions throughout the Lake Almanor basin during the summer fire season. Knotty Pine Resort & Marina does not consider unfavorable air quality as a valid reason to cancel a rental contract. Therefore, please carefully consider our policy with respect to Wildland Fire and/or Air Quality: Our standard cancellation policies will apply under all circumstances in which the renter requests a refund due to wildland fire, smoke and/or air quality concerns. The ONLY circumstance where a full refund of all monies paid will occur is when the Plumas County Sheriff's Office issues a Mandatory Evacuation Order for the Lake Almanor Peninsula. An Evacuation Advisory is not a valid reason to request a full refund. The closure of highway(s) is not a valid reason to request a full refund, if at least one main highway is available for travel to Lake Almanor. Knotty Pine Resort & Marina will not process a full refund if separate lodging accommodations are cancelled by the property manager or owner for any reason.
Rebooking policy:
If Knotty Pine Resort & Marina permits you to make a one time change of the reservation date within the calendar year, you will be ineligible for any refund if you need to cancel the reservation.
Please carefully consider these policies prior to completing your reservation. No exceptions will be considered. Your choice to not show up to collect your boat on the reserved day/time is not a Failure To Provide Service for credit card resolution purposes. If you are not willing to assume this risk, Knotty Pine Resort & Marina strongly suggests that you wait until you arrive at Lake Almanor for your vacation before securing boat rental(s). However, if you do choose to wait, there is a risk that your preferred boat and/or time slot may not be available.
Boat Rental Terms and Conditions
All Boats are rented subject to the terms and conditions of the rental contract. Like all legal documents, a responsible adult over 18 years of age must sign the rental contract. No person under 16 years of age may operate a powerboat over 15 hp unless accompanied and supervised by an adult of 18 years of age. You must abide by all local, state and federal regulations affecting the operation of water craft. Payment is due in full for the rental at check-in. Any additional charges, including fuel, overtime or damages, are due and payable prior to check-out. No credit for early return. Overtime charges shall accrue at 150% of the normal rate. Imprint of a major credit card required as a security deposit.
Book Now